SVSM Veteran's Model Drive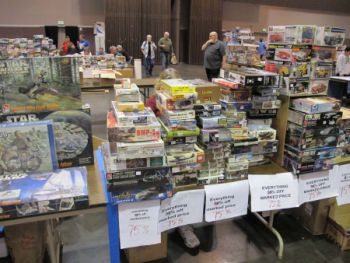 The Silicon Valley Scale Modelers wish to honor the veterans of America's wars. These veterans have made sacrifices to safe guard the freedoms that Americans take for granted everyday. Many of these veterans have been injured while protecting our way of life and spend their time in Veteran's Hospitals across the country. It is important that we not let our war heroes believe that they are forgotten.
To show our gratitude for their supreme sacrifices, SVSM is honoring our war veterans by having a year round model drive. This model drive will provide entertainment and valuable rehabilitative therapy for the veterans as well as an opportunity for some veterans to spend time with their children and grand children.
The model drive is scheduled to deliver snap together kits year round to the three Northern California Veteran Hospitals. The schedule below shows the name of the hospital and the scheduled times of delivery as well as the number of kits intended for each site.
|   | Jan | Feb | Mar | Apr | May | Jun | Jul | Aug | Sep | Oct | Nov | Dec |
| --- | --- | --- | --- | --- | --- | --- | --- | --- | --- | --- | --- | --- |
| Palo Alto VA |   |   |   |   | 25 |   |   |   |   |   | 25 |   |
| San Francisco VA | 25 |   |   |   |   |   | 25 |   |   |   |   |   |
| Martinez VA |   |   | 25 |   |   |   |   |   | 25 |   |   |   |
How you can help…
To make this model drive successful SVSM needs your donations. We intend to ship in excess of 150 kits per year. To meet this goal SVSM must have your generous contributions.
The types of kits given to the veterans will be snap together kits of any type, however, SVSM will gladly accept donations of opened and unopened glue together models kits. Complete unstarted models are preferred but if you have a kit that you are no longer interested in finishing or is missing a couple minor parts we will be delighted to receive them. These kits will be sold at auction to generate money for the purchase of the necessary snap together kits. Additionally SVSM will accept monetary donations and apply the cash directly to the purchase of new model kits.
One hundred percent of all donations will be applied to the purchase and delivery of the models to the veterans.
To make a donation or inquire on how you can help the program please contact Jim Priete or Mick Burton by email
PLEASE USE "SVSM VET MODEL DRIVE" in your message header for best results
Email:
jpriete@aol.com – for Jim Priete (Primary)
DENS25403@mypacks.net – for Mick Burton (Backup)
Thank you!
Silicon Valley Scale Modelers